Fit all your training gear and more into our ample Spiky III Duffle 40. Made from a durable yet lightweight nylon, its spacious lined interior, mesh inserts and extra pockets make it easy to keep your different items organized and moisture-free. Styled with our name in magnified lettering and contrasting zippers, this urban athletic bag doubles up as the perfect carryall for an adventurous weekend with friends. Choose from a selection of colours.
Design
Designed to contain up to 40 litres, this carryall measures 28 x 50 x 28 cm and has a water repellent bottom. The main compartment offers plenty of ventilated storage and has a deep side pocket for keeping your shoes or wet items separated. Fitted with top handles and padded shoulder straps for carrying it comfortably in different ways, organize your small items and gear with the inner and outer pockets. Finished with customized lining and exclusive hardware.
Material composition
90% Polyamide 10% Polyester
Roomy interior
Wet gear compartment
Water-resistant bottom
OUR SPIKY III DUFFLE 40 L IN A NUTSHELL
Cut from a resilient shell fabric to withstand wear and tear.
EASY STORAGE OF ALL YOUR GEAR
This bag is designed to simplify storage, access and separation of wet, dry, and other fragile items.
The strong reinforced bottom of the bag protects stored contents from wet floors.
---
to better organise training gear and accessories.
to keep small items close to hand.
to keep footwear\wet items separated.
to make it easy to wear and grab.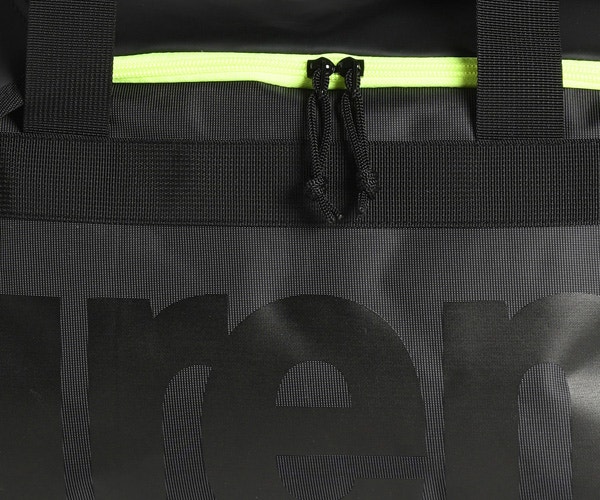 CONTRASTING ZIPS AND BOLD LOGOS
this heavy-duty bag is finished with cool athletic detailing and our name in big sleek letters.
---
A capacious carry-all is the sports enthusiast's answer to packing equipment and clothes for weekly workouts or active weekends away.
The main, wide compartment is integrated with a deep lateral pocket to keep footwear\wet items separated.
---
VERSATILE AND ROOMY