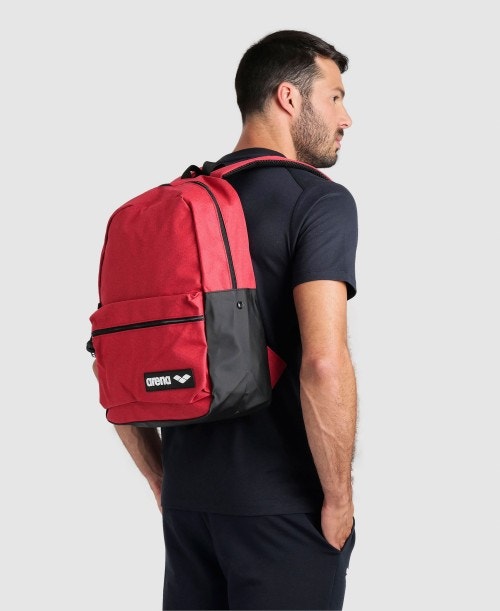 Take your favourite sportswear brand back to school with our Team 30 Backpack. Made of a resistant shell fabric, this hard-wearing bag is comfortable to use wherever your adventures may take you. Its compact size will easily hold all your essentials. Minimalist styling in solid colours with contrasting details and a micro-injected label with a 3D effect. Housed inside is an extra swim bag for storing your pool kit.
Design
This backpack measures 46 x 31 x 16 cm. The large main compartment is designed for breathability and moisture control. The outside zipped pocket is perfect for storing small items, and the wide side pocket can easily hold a snack or drink. We padded out the back for additional cushioning. Use the inner laptop sleeve to protect your technology.
Compact design
Comfortable straps
Moisture control
OUR TEAM BACKPACK 30 IN A NUTSHELL
Cut from a resilient shell fabric to withstand wear and tear.
EASY STORAGE OF ALL YOUR GEAR
This bag is designed to simplify storage, access and separation of wet, dry, and other fragile items.
Free Swimbag included in the bag to store your wet garments and to carry your gear to the pool.
The strong reinforced bottom of the bag protects stored contents from wet floors.
---
to keep small items easy to reach.
for water bottle and other accessories.
to keep dry clothes separate from wet training gear.
the compartments are ventilated to keep moisture under control.
and extra comfortable straps for no sweat-transport.
use the free swimbag inside for your pool gear or wet items.
---
This compact backpack is perfect to transport your essentials. Great for school, it is easy and comfortable to wear.
This hard-wearing bag is comfortable to use wherever your adventures may take you.
DIMENSIONS
46 x 31 x 16 cm
---
COMPACT AND EASY TO WEAR