Take your performance to an unprecedented level with our new men's Powerskin Storm Wetsuit. Elegant and hydrodynamic, this design is the latest development on our popular Carbon wetsuit.
Designed entirely out of limestone Yamamoto SCS neoprene, a material made from oil with reduced environmental impact, the Powerskin Storm wetsuit has been developed with the help of the world's leading athletes and incorporates arena carbon fibre technology that supports your body while swimming, so you can maintain an optimum position in the water.
The various thicknesses of neoprene guarantee maximum buoyancy, extraordinary flexibility, and total freedom of movement. The special double-layer construction on the forearms provides better sensations during the catch phase, while thinner and highly elastic neoprene around the wrists and ankles means you can put on and take off the wetsuit very quickly. The neckline is designed to provide maximum comfort and no chafing.
The Powerskin Storm wetsuit is approved for all the main race circuits, including FINA, ITU, Ironman and USAT
Features:
Varying thickness of neoprene increases buoyancy
4mm thickness in torso provides warmth
Thin ultra-flexible neoprene in shoulders allow for full range of motion
Nano SCS coating enhances glide during races
Double blind stitching ensures a water tight wetsuit
Carbon fiber technology improves wetsuit durability
Unmatched core support from carbon technology
Constructed with specially designed quick drying fabric
Material composition
80% Neoprene 20% Polyamide
Care Instructions
In order to ensure that your Arena product provides you with the best possible performance for a long time to come, we recommend you take the following precautions:
rinse immediately after use, in non-chlorinated water;
do not leave the wet product in a bag or other container for a long time;
do not expose the wet item in a bag or other container to direct sunlight;
air-dry away from heat sources.
Follow the washing instructions given on your product label.
The label provides useful symbols giving information on how to take best care of it.
Men's Powerskin Storm Wetsuit
Hydrodynamic
Buoyancy
Unrestricted movement
OUR STORM WETSUIT IN A NUTSHELL
Superior buoyancy and body position, maximum range of motion.
Compliance to the standards of FINA, ITU, Ironman and USAT.
Reduced drag thanks to a Nano SCS coating.
CARBON FIBER WOVEN FABRIC
Integrated internal Carbon Fiber technology.
---
SUPERIOR BUOYANCY & BODY POSITION
The laminated 4mm thick material of the POWERSKIN STORM is constructed using 3 layers of Yamamoto neoprene. The middle layer uses Airlock technology wherein the fabric is perforated to trap air during the lamination process. This allows for 30% more buoyancy over the standard 4mm neoprene, which results in an added lifting sensation for athletes while swimming. The Airlock neoprene is strategically placed on the core and upper thigh areas for an ideal body position, a smooth rotation in the water, and full flexibility.
UNIMPEDED RANGE OF MOTION
The STORM wetsuit exclusively uses Yamamoto's highest elasticity neoprenes - a mix of #39 and #40 quality. These are made out of Limestone, making the wetsuit extremely flexible and thus providing athletes with an unrestricted range of motion that helps to make each stroke feel natural and comfortable. These pliable neoprenes are strategically placed on the suit in varying degrees of thickness to provide liberated movement, with enough buoyancy to facilitate a hydrodynamic body position.
DURABLE & WATERPROOF CONSTRUCTION
All seams in the STORM wetsuit are held firmly together with 100% waterproof glue for maximum strength and durability. They are then double blind stitched together, passing through only half of the neoprene material to leave the surface of the fabric smooth and the thread invisible. The result is a secure, completely waterproof seam.
Yamamoto neoprene uses Limestone as its core ingredient. This sedimentary rock, composed largely of minerals, calcite and aragonite, is developed using no oil at all.
The STORM wetsuit features a uniquely designed low profile collar, with flattened edges at the neckline and a soft internal fabric which reduces friction when in contact with the skin and prevents chafing.
QUICK EXITS & TRANSITIONS
The ankle cuffs and wrist cuffs feature a thin Yamamoto neoprene designed for enhanced elasticity, making the wetsuit easy to get on and off during the quick transitional phases of a race or practice.
The Yamamoto neoprene is coated with Nano SCS (Super Composite Skin) to ensure zero water absorption. The micro-cell structure of this coating effectively repels water, equipping athletes with a reduced drag and an outstanding glide.
WORLD RENOWNED CORE SUPPORT
All Airlock neoprene is laminated internally with Powerskin Carbon Fiber woven fabric - a feature unique to arena wetsuits. This patent pending textile has proven to have a podium-worthy performance as it has been worn by the world's greatest swimmers. The secret to its success lies in the unparalleled core support it provides to athletes. An added bonus of the woven fabric is its quick-dry and hydrophobic quality, making it quickly ready for your next swim.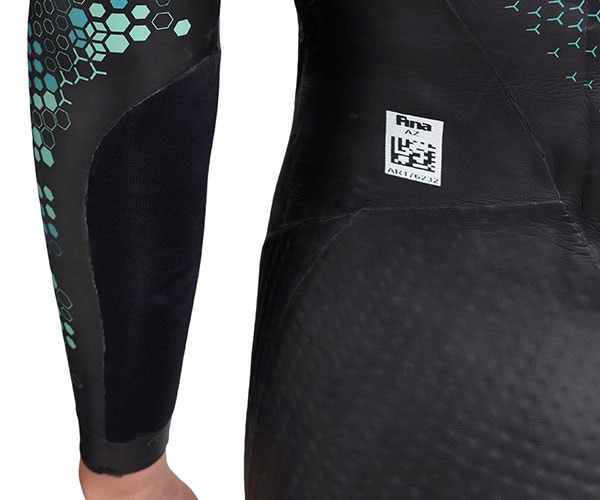 HEIGHTENED CATCH & FEEL OF WATER
The STORM wetsuit features a double lined ultra-thin panel of neoprene along the inside of the forearms to provide the swimmer with a heightened sense of feeling and awareness in the water, particularly during the catch and pull phase of the stroke.
APPROVED BY FINA, WORLD TRIATHLON (ITU), IRONMAN & USAT
Thanks to its elevated standards of excellence, the STORM wetsuit is the first contemporary high-end wetsuit to fulfill all requirements set out by FINA (International Federation of Swimming), World Triathlon (formerly ITU - International Triathlon Union), World Triathlon Corporation (WTC - owners of the Ironman series) and USAT (USA Triathlon). The STORM wetsuit is approved by FINA in construction, materials, and logo-branding allowance, and can therefore by used in all FINA sanctioned events at any level.
---
1
Super thin and stretchy neoprene across the shoulders and arms to provide maximum freedom of movement.
2
By mixing different thickness of neoprene we provide an optimum buoyancy profile across the body.
3
Yamamoto neoprene is internally laminated with arena's proprietary carbon bands technology fabric in the core area.
4
Low profile super soft neckline for maximum comfort.
5
Reduced thickness on arms and legs cuff/openings for a faster exit and entry.
THICKNESS MAP
1.5 mm - Yamamoto #39 and #40.
4.0 mm - arena trilayer with air trapping technology for max buoyancy and flexibility.
MATCH IT WITH YOUR FAVOURITE ACCESSORIES
MAKE YOUR KIT COMPLETE WITH