Sleek all-black version of arena's super comfortable shoulder bag. Its Smart Space Management allows you to organize, pack and unpack your gear quickly and easily, keeping your sports gear separated from all your personal items. It's detailed with a large black-on-black logo and cyan blue custom lining.
Features
:
- Two large breathable compartments for moisture control.
- Super comfortable straps.
- Wide and soft side pocket for large water bottles and other accessories.
- Zipped inner pocket.
Dimensions
:
- L12,58 x W21,62 x H10,61 in
- 35 l
Fast shoulder bag All-Black
Comfortable straps
Moisture control
Water repellent
OUR FAST SHOULDER BAG IN A NUTSHELL
Cut from a resilient shell fabric to withstand wear and tear.
EASY STORAGE OF ALL YOUR GEAR
This bag is designed to simplify storage, access and separation of wet, dry, and other fragile items.
Free Swimbag included in the bag to store your wet garments and to carry your gear to the pool.
The strong reinforced bottom of the bag protects stored contents from wet floors.
---
the compartments are ventilated to keep moisture under control.
for water bottle and other accessories.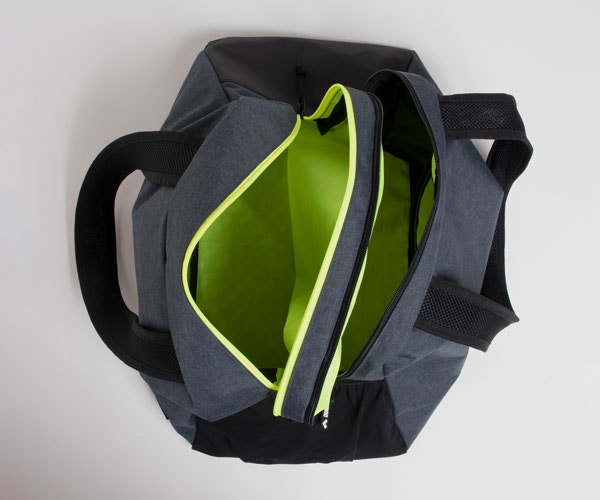 to keep sports gear separate from personal items.
SOFT AND BREATHABLE SHOULDER STRAP
use the free swimbag inside for your pool gear or wet items.
---
A handsome and super comfortable shoulder bag. It's designed with a smart space management system for easily organizing and accessing your sports gear, clothes and personal items.
The Space Management system simplifies storage, access and separation of wet, dry and fragile items.
DIMENSIONS
32 x 55 x 27 cm
---
FUNCTIONAL AND SLEEK